Backing up your Data
At some point in the future your hard drive might fail. If you don't back up your data you might lose the lot. From a business point of view this is a major disaster, especially if you store all your VAT returns, Company invoices, customer contact details etc on your PC. It's vital that you have a way of recovering this data should the PC fail.
That's why it's important to backup your vital data. You need to think about what sort of data you want to back up and how often it should be backed up.
This also applies to individual people as well as businesses. Just think. If you lost all your contacts in your email system which you had collected over the years, or if you lost all those family photos which were stored on the PC.
It's a disaster waiting to happen. Do you have home insurance? Then why not take similar precautions with your data on your PC.
There are a range of backup applications which help you automatically back up your data to external hard drives, CD, DVD and other media.

As you can see, there are a number of options for your particular requirements. Give us a call, or email us, and we are always happy to discuss requirements for your business or personal needs.

Click the above image to get more information about Home PC Backup.

This program can be used by both business and home users to backup data and is the ideal offsite backup solution.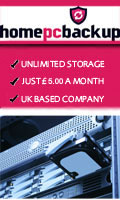 Šopyright One 2 One PC Support